FWF P33778 - AMP(K)lifying Nrf2 target gene expression
The AMP-activated kinase (AMPK) and the transcription factor nuclear factor E2 related factor 2 (Nrf2) are affected by multiple natural products and represent key hubs in the adaptive cellular homeostasis in response to metabolic and redox/xenobiotic insults, respectively.
In a previous project we have uncovered
a direct crosstalk between the two molecules, as evident by AMPK-mediated phosphorylation of Nrf2 at three serine residues in vitro and in living cells 1
altered expression of selected Nrf2 target genes in an AMPK- or phosphorylation dependent manner 1,2
1 Redox Biol. 2020;29:101393 2 Front Cell Dev Biol. 2020;8:628
Objectives
Open questions that are followed‐up in this project comprise:

Is AMPK directly or indirectly responsible for the phosphorylation of the identified sites?

Is the observed AMPK -dependent phosphorylation the long‐sought priming signal for GSK3b/ bTrcP‐mediated degradation of Nrf2?

How can the AMPK‐dependent phosphorylation of Nrf2 contribute to (selectively) altered Nrf2 target gene expression? Is there also epigenetic control of Nrf2‐dependent gene expression by AMPK, possibly unleashed from Nrf2 phosphorylation?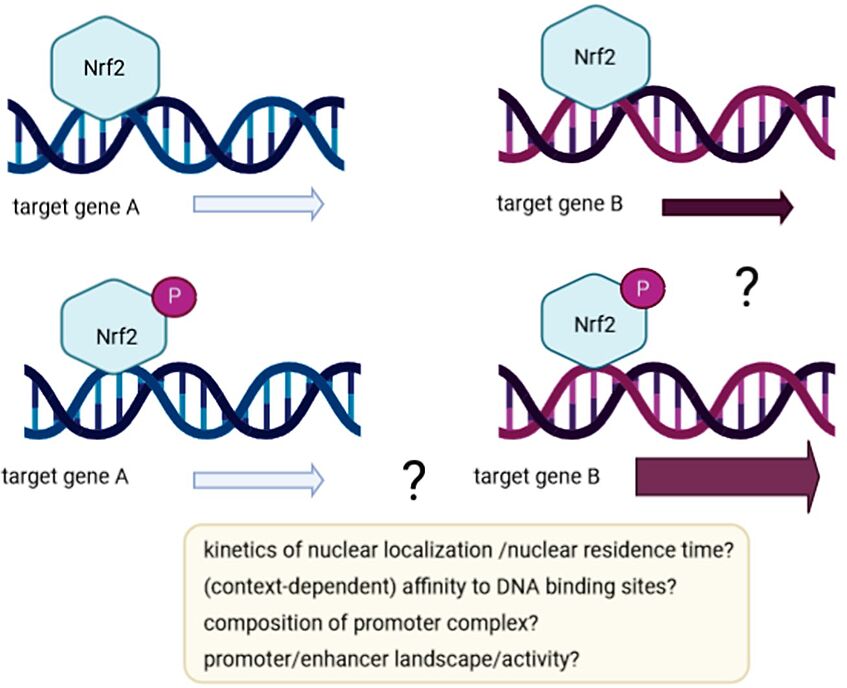 Aim
We aim at giving unprecedented deeper insight into the intricate, fine‐tuned and most likely multifactorial crosstalk between AMPK and Nrf2. Employed methods mainly comprise in vitro kinase assays, site-directed mutagenesis, transfection to achieve knockdown or overexpression, DNA/protein (e.g. EMSA, ChIP) or protein/protein (e.g. CoIP/proximity ligation) interaction studies as well as expression analysis (on RNA and protein level).
Like this, we expect to increase our understanding of the cellular stress resilience and how to possibly preserve it by the use of appropriate natural products in the course of chronic diseases or as we age.
People
Elke Heiss, PhD; Principal Investigator
Eleni Petsouki, PhD; Postdoctoral Fellow
N.N.; graduate student